How to use the Eventbrite iPhone app
Updated: 01/12/14
Scanning tickets for entry
If you're organising an event, you can check in attendees right from the Eventbrite app with either the ticket scanner or with the attendee checklist. Just tap the My Events icon to find your event to get started.
1
Find your event.
After creating an event and logging into the Eventbrite app, tap My Events near the bottom right. You can use the Live/Past tabs at the top to find your event.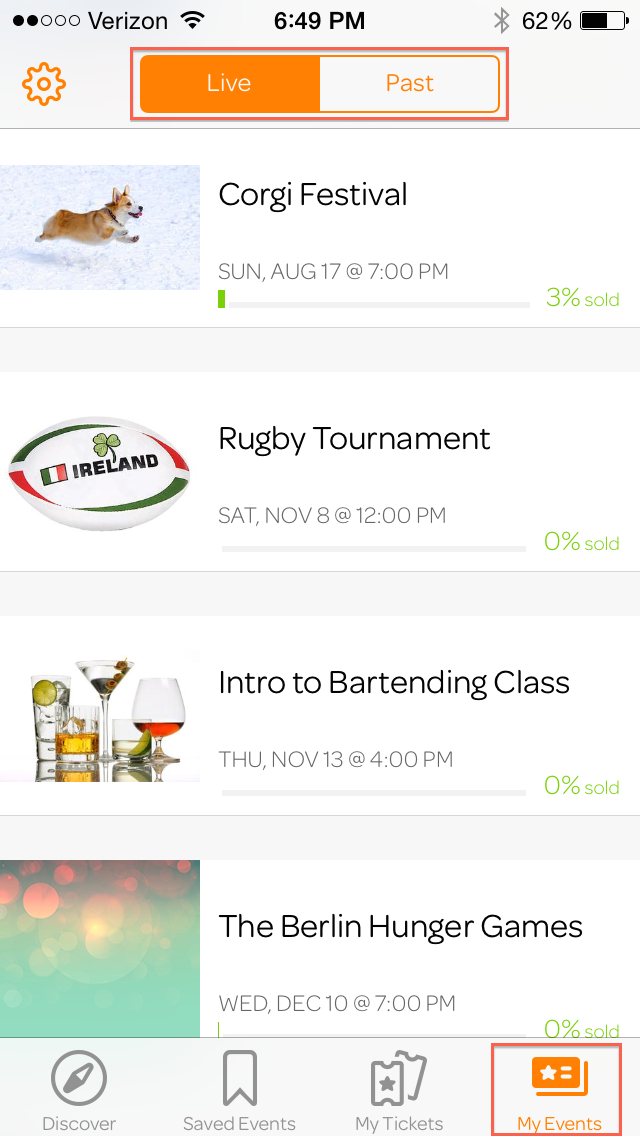 Tip: If you don't see your event, try pulling the screen down to refresh. Also make sure you're signed into the correct Eventbrite account or have the correct subuser permission.
2
Tap "Scan" or "Attendee List."
From your event's dashboard, choose Scan or Attendee List to start checking in attendees.
3
Check in attendees.
From the Attendee List, you can check in attendees by tapping their name and selecting the green check icon.
You can also scan printed tickets or mobile barcodes by tapping the Scan icon.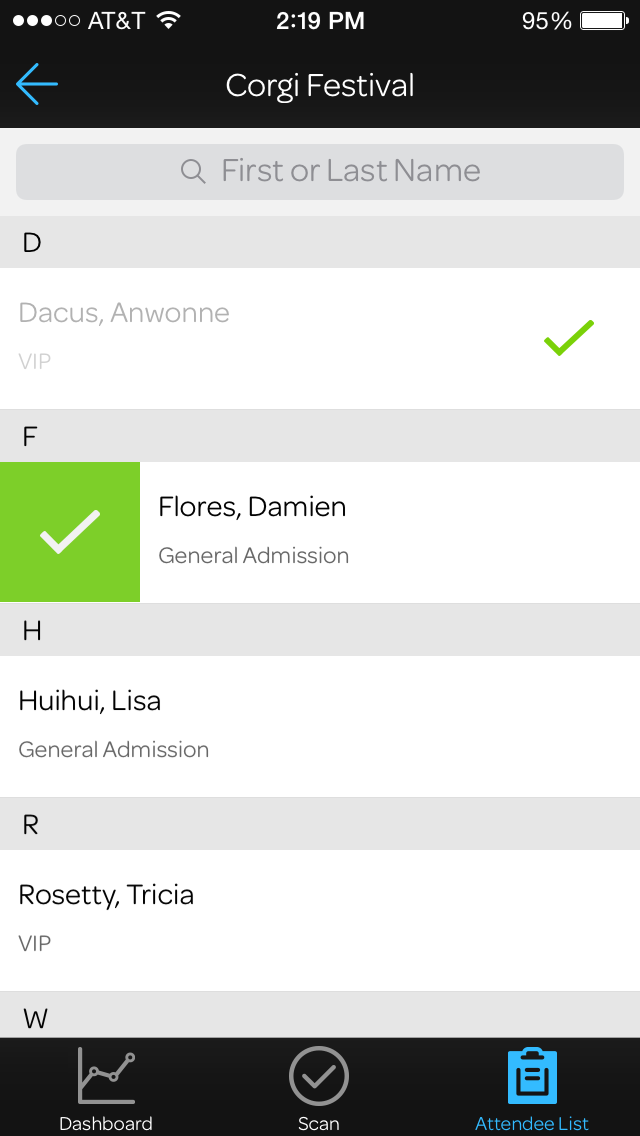 Did this help? Let us know! Or return to top.
Purchasing tickets
1
Tap "Register" or "Get Tickets."
When you find an event you want to attend, just tap the green button.
Tip: The from $____ represents the price of the cheapest ticket, however, that ticket type may no longer be available.
Note: Some events may open in a browser window to complete the order, but your tickets will still show up in the Eventbrite app once your registration is complete.
2
Select a ticket type.
If you see it, use the More Info link to read more details about each ticket type, including price and fees, when sales end, and any additional details from the organiser.
Pro Tip: You can also enter a promotional code here if you have one.
3
Tap "Order Now."
Just confirm that your personal information is correct, then enter payment information and any other details the organiser is requesting.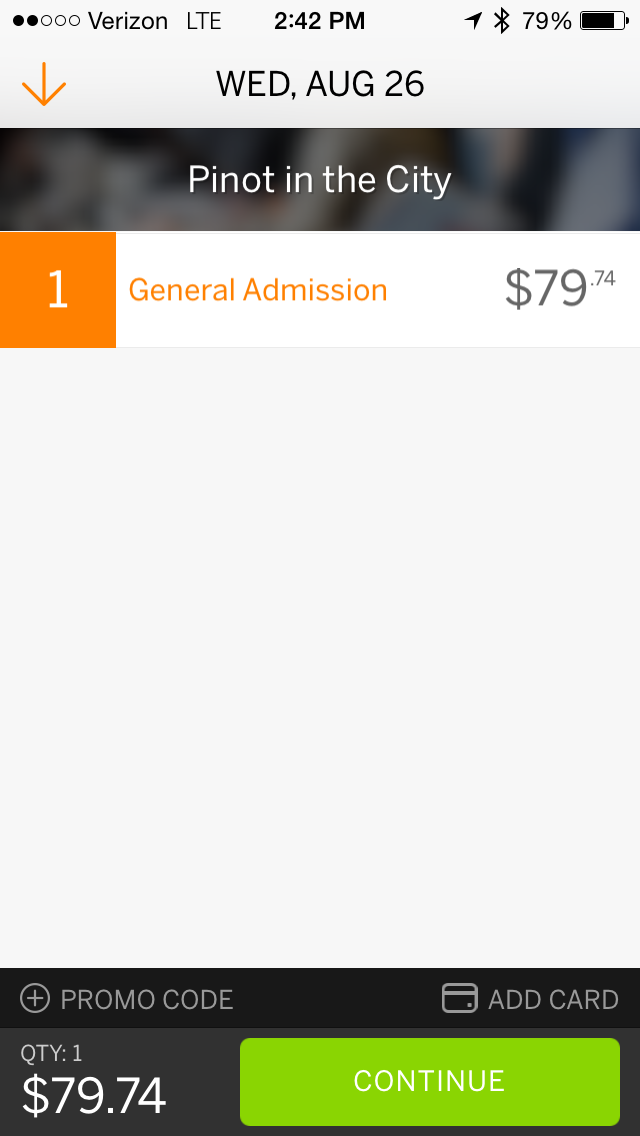 4
Tap "Pay Now" to finish.
Your order is only completed once you take this final step and your payment information is verified.
Tip: You can use the back arrow to add items to your order, but the information you entered won't be saved.
Pro Tip: Eventbrite takes protecting your information seriously. Learn more about our privacy policy, security guidelines, PCI compliance, and terms of service.
5
Receive your order confirmation.
When your order is processed successfully, you'll get an email order confirmation and your tickets.
Did this help? Let us know! Or return to top.
Finding your tickets
1
Go to Tickets.
Once you're logged into the Eventbrite app, just tap My Tickets in the mobile menu to find upcoming and past events.
2
Check your event details or contact the organiser.
The Tickets tab shows a barcode and the Info tab shows your event details (time and place, including estimated time to arrive from your current location).
If you're having trouble finding your tickets, use this troubleshooting article for help.
Tip: If you need to cancel a registration for a free event, you'll need to do this directly on Eventbrite.com. You can, however, contact the organiser by tapping Contact on the Info tab at the top of your ticket.
3
Show your ticket to scan.
Organisers can scan your printed or digital ticket barcode for entry, although you still may be asked for identification.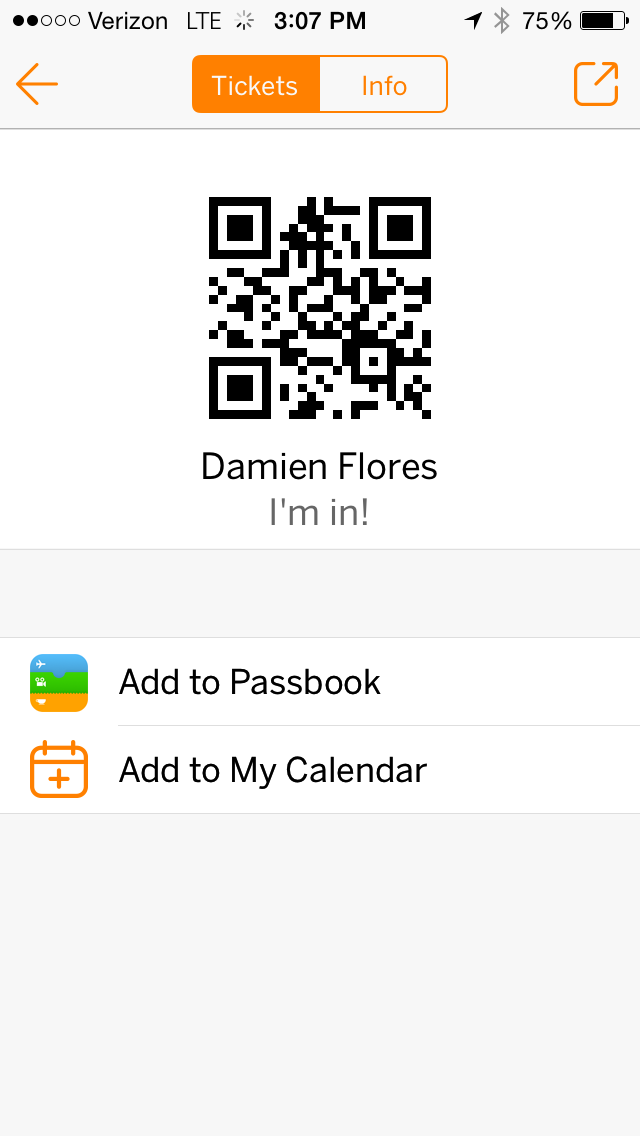 Tip: You can add a ticket to your Passbook, but we recommend using the Eventbrite app for ticket management because you'll always see the most current event details.
Pro Tip: If you use the "add to calendar" feature, all of the details as well as a link to the event page will be added to your default calendar.
Note: Your organiser might not need to see tickets for entry to the event, so you may not see a barcode display.
4
Share group tickets.
The person who purchased the tickets will see them in My Tickets by swiping left. Use the arrow icon in the top right to email that ticket to someone else. They'll receive the barcode to display on their phone (or print).
Did this help? Let us know! Or return to top.
Discovering events
The Eventbrite app makes it easy to find great upcoming events near you. From the main discover screen, you can see events your friends are going to and recommended upcoming events and even browse by what's going on around you or this weekend.
1
Browse by category.
Search for events by categories like music, business, food and drink, community, or arts.
2
Search by keyword and location.
Enter a keyword and use either your current location or enter a city to find events.
Tip: Make sure to enable location services by going to Settings > Privacy > Location Services and turn on Eventbrite.
3
Filter your results.
Tap the filter icon at the top right of your results to sort by search relevance, event date, and distance.
You can also restrict your results by distance from your search location. Or choose to see just free or paid events.
Did this help? Let us know! Or return to top.
Saving events
When you connect your account to Facebook, you can bookmark any event to purchase tickets later or share with friends.
1
Connect to Facebook.
Tap the settings gear icon in the top left of My Tickets, then turn on Facebook by tapping the on/off switch.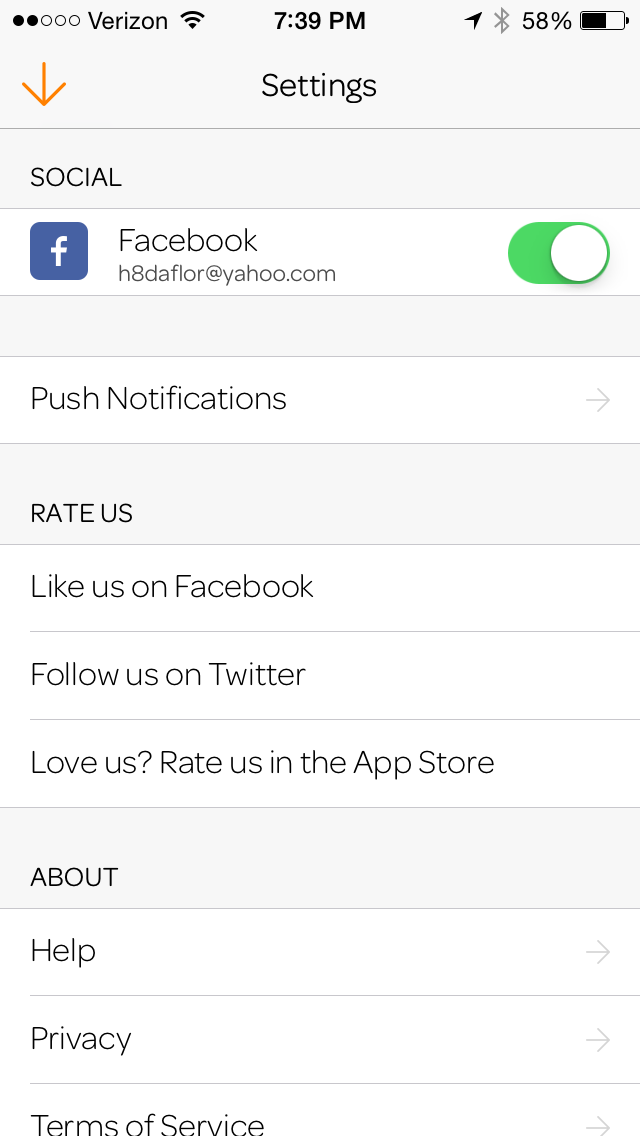 2
Tap the bookmark icon at the top right.
You can tap the bookmark again to un-favorite the event.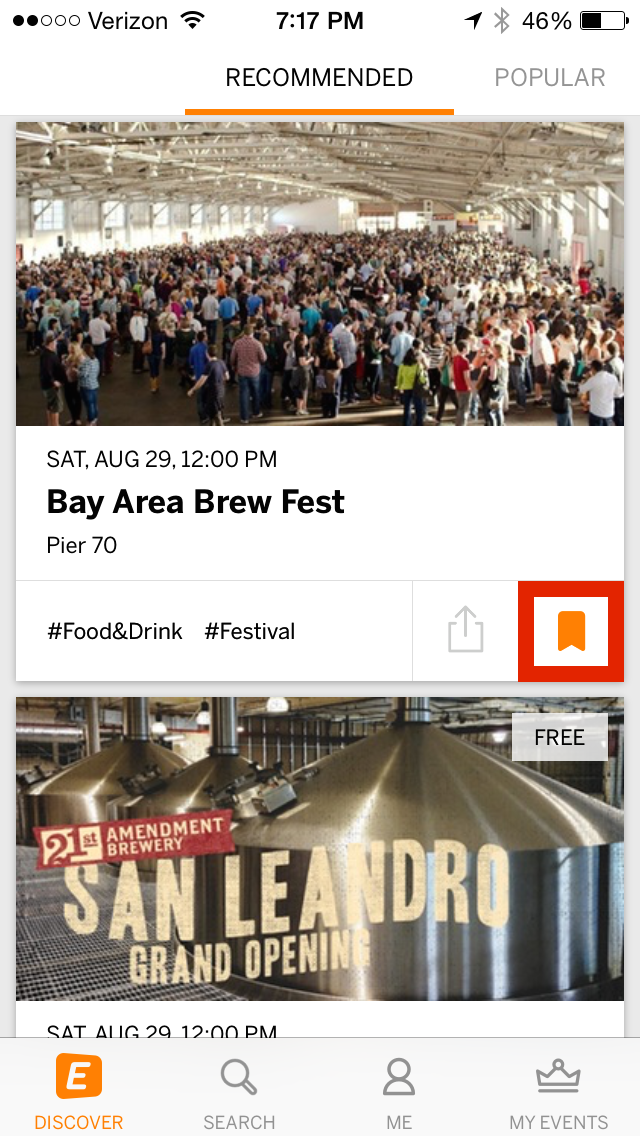 3
Revisit saved events any time.
You'll see all of your saved upcoming events when you tap the Saved Events icon from the mobile menu.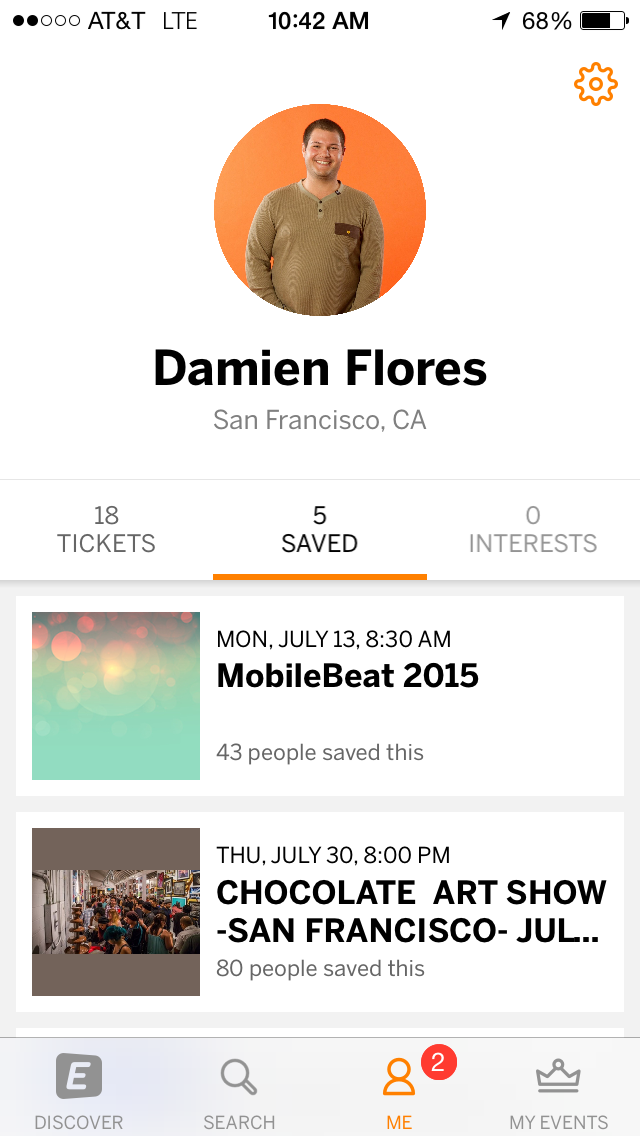 Tip: You won't see the mobile menu if you're looking at an event page or when you're completing a registration.
Note: If you save an event, you won't get a reminder letting you know when the event is coming up, so be sure to check your Saved Events often.
Did this help? Let us know! Or return to top.
​
Sharing events
Events are better with friends—share them with text message, email, Twitter, Facebook, or WhatsApp.
1
Tap the sharing icon.
From an event page, tap the arrow icon in the upper right to access your sharing options.
2
Choose one of the sharing options.
You can share the event with:
- a new text message or email
- a link to the event page
- Twitter, Facebook, or WhatsApp (if connected)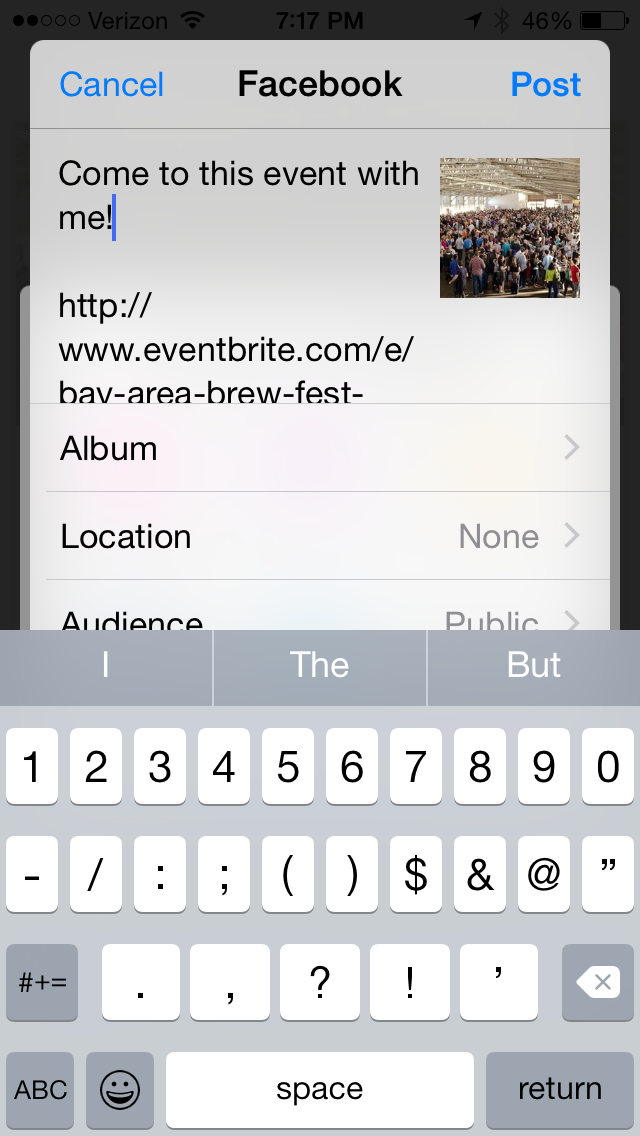 3
Connect to Facebook for friend notifications.
If at least two of your Facebook friends are going to an event, you'll get an alert that sends you to the event page.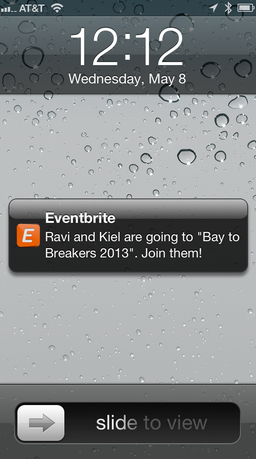 Can't find what you're looking for?
Our customer experience team is here to help! Contact us.